A house with such a long and colourful past will always accumulate stories. But like all stories, whispered from one person to another over the years, not all those stories are true. Sometimes details were exaggerated, misheard, forgotten and some are just plain wrong! And sometimes the truth of a story is even more fascinating than the myth…
When a world famous Russian ballet dancer and her partner stepped out onto the floor of the Marble Saloon of Wentworth Woodhouse, to the enthusiastic applause of King George V & Queen Mary, on their 1912 Royal Visit, she could not have imagined the confusion and controversy her identity would spark one hundred years later. For decades, it was believed that the famous ballerina had been Anna Pavlova, but recent research by a member of our Research Team has revealed that the dancer was actually Lydia Kyasht, Pavlova's more famous (at the time) compatriot, friend and fellow graduate of the Imperial Ballet School at St Petersburg. She was called "The World's Most Beautiful Dancer"[1], and her partner, Alexandre Volinine, a master of classical technique & lightness, was to become Pavlova's permanent partner two years later[2]. The piece they danced before the King and Queen was called "First Love" and had been specially choreographed for the Empire Theatre in London, by Kyasht where she was 'Premiere Danseuse'.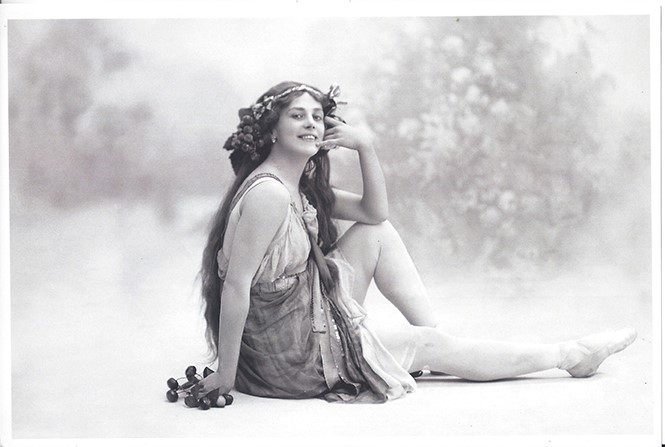 It is easy to see how the story changed in the telling and the myth of Pavlova & Volinine, dancing in the Marble Saloon, was born. However, the discovery of a newspaper article[3], listing the performers on that night to remember, which included Kyasht & Volinine and a set of photographs in the National Portrait Gallery recreating their roles at the Fitzwilliam's party[4], coupled with an account left by Lydia Kyasht herself in her autobiography, "Romantic Recollections", prove conclusively the identity of the dancers in the Marble Saloon.
"The first occasion on which I danced before King George and Queen Mary occurred at a party given by Lord and Lady Fitzwilliam. Owing to their relationship with Mr Fitzwilliam, a director of the Empire, arrangements were usually made for one or other of the stars there to perform at their private parties. They asked me to go down and stay at their country place for this particular party, and to organise a special entertainment as King George and Queen Mary were going to stay with them. I arranged an attractive programme and everyone was very pleased. Afterwards Lady Fitzwilliam sent me a charming little brooch as a souvenir." [5]
She made no mention of the grandeurs of Wentworth Woodhouse, which had struck Princess Victoria, seventy years, before but perhaps to one who had frequently performed before the Russian Royal family at the Imperial Theatre in the Winter Palace, St Petersburg, it was not remarkable.
Pavlova dancing in the Marble Saloon has captured the imagination of many. Her fame rests on her remarkable solo performances of Mikhail Folkine's "The Dying Swan" to Saint-Saens' Le Cyne from the Carnival des Animaux, which she performed more than 4000 times and (it must be said!), to the dessert that was created by chef Herbert Sachse for the Esplanade Hotel as homage to her during her 1935 visit to Perth.[6] Although Kyasht's story has been eclipsed over time by the fame of her older friend, she was the very first of the great Russian ballet dancers to come to London, paving the way for Karsavina, Pavlova, Nijinsky and others and was considered by some to be the first and greatest of them all. [8]
And for all those dancers who over the years have recreated the dance of the Dying Swan in our Marble Saloon, although Kyasht never danced it here at Wentworth Woodhouse, she claimed to be the very first dancer in Russia to dance the Dying Swan, in 1905[1]; in 1919 a review described her performance to Saint-Saens' Le Cygne as "perfection of grace and art. From the lighter shades to the finale, where the swan struggles in its last moments and finally folds its wings in death, the onlooker could scarcely forbear to exclaim 'Beautiful!' for both musician and dancer could not have performed better" (reproduced courtesy of Don Gillan) [9]
---
[1] J. de la Mare Rowley, "Lydia Kyasht – the World's Most Beautiful Dancer" The Theatre (February 1914): 73-74
[2] https://www.npg.org.uk/collections/search/person/mp66181/alexandre-volinine-ne-aleksandr-volinin#:~:text=In%201912%20he%20partnered%20Lydia,dancing%20partner%20of%20Anna%20Pavlova
[3] 13 Jul 1912 The Gentlewoman, copyright of the National Newspaper Archives (www.findmypast.co.uk).
[4] https://www.npg.org.uk/collections/search/portrait/mw72112/Lydia-Kyasht-Alexandre-Volinine-n-Aleksandr-Volinin-in-First-Love?LinkID=mp66181&role=sit&rNo=4
[5] "Romantic Recollections" by Mme Lydia Kyasht, publ. 1929 by John Wright & Sons, Bristol.p224-225 [1] http://www.bbc.com/travel/story/20200804-the-surprising-truth-about-pavlovas-origins
[6] http://www.bbc.com/travel/story/20200804-the-surprising-truth-about-pavlovas-origins
[7] http://www.stagebeauty.net/th-frames.html?http&&&www.stagebeauty.net/kyasht/kyasht-l3.html
[8] Romantic Recollections" by Mme Lydia Kyasht, publ. 1929 by John Wright & Sons, Bristol
[9] http://www.stagebeauty.net/th-frames.html?http&&&www.stagebeauty.net/kyasht/kyasht-l.html